The BTR Arc is Still Bending Steeply Upward, But With a Catch. Unmet needs. They're a doorway to opportunity in any business, and everybody knows housing is...
Source: "The BTR Arc is Still Bending Steeply Upward, But With a Catch" by John McManus for The Builder's Daily
Unmet needs. They're a doorway to opportunity in any business, and everybody knows housing is full of them.
What that doesn't mean is that people who step up and try to meet those unmet needs get any sort of free pass – time, money, land, political will, skilled labor, etc.
The dire nature of an unmet need – a housing access, attainability, and affordability crisis – still doesn't change the fact that those who strive to meet it do not have a break coming to them because their efforts are fueled by the noblest of purposes.
This, of course, is news to no one who's been working in the field longer than, say, maybe the last 10 years. The past decade may likely have given entrants to the business a distorted experience of how residential real estate and construction work.
Evidence of unmet need in housing's domain is always, everywhere, and all at once.
A report today from the research folks at the National Association of Home Builders illustrates that in the U.S. counties where the most people live, there are the lowest rates of homeownership… And they're losing share of ground-up single-family development and construction activity.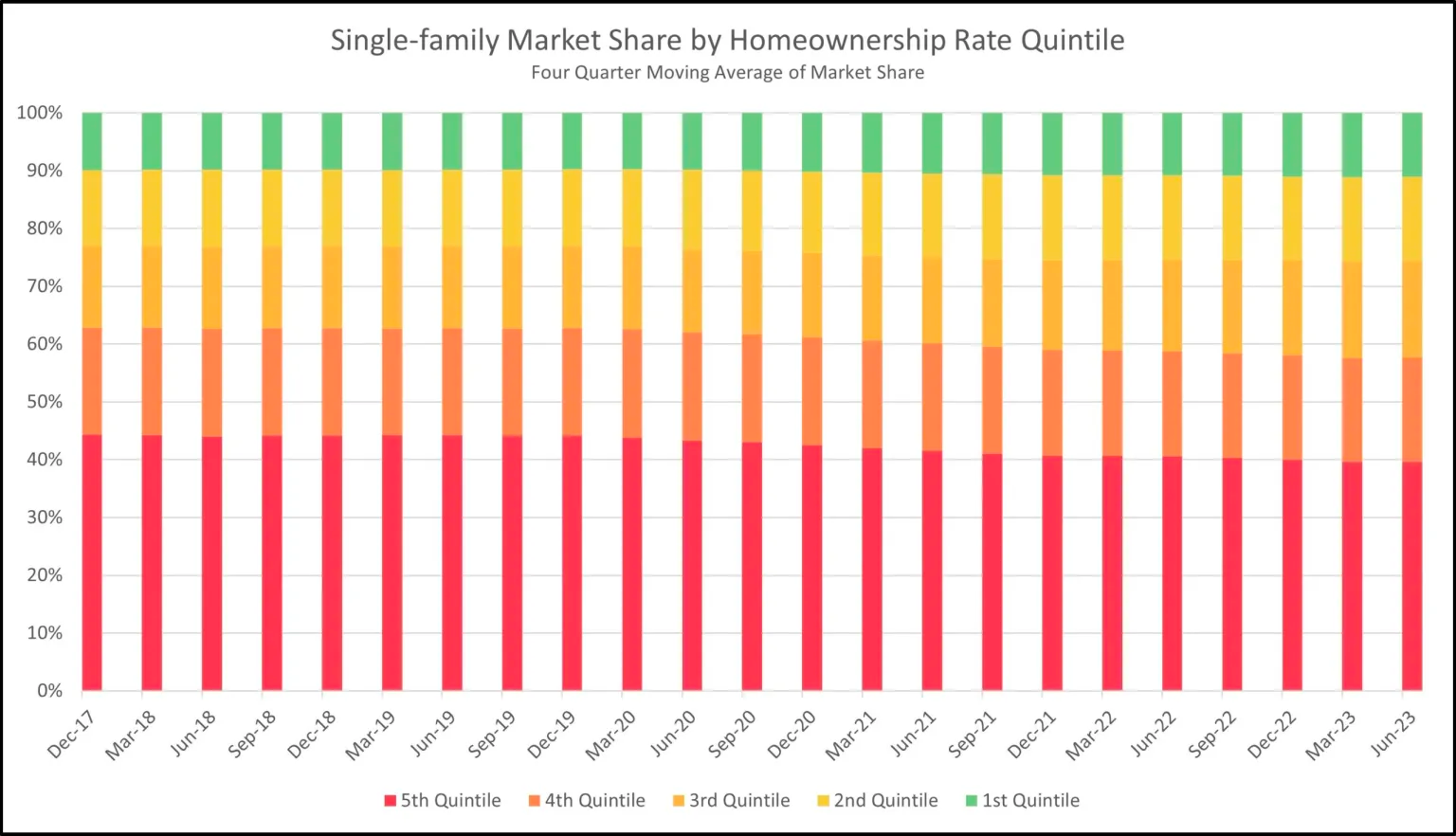 Insight from NAHB economist Jesse Wade points up the "unmet need."
While home preferences are constantly changing, it is evident that the pandemic shifted the single-family market somewhat away from high density areas as individuals moved further away from urban cores into the suburbs where homeownership rates are higher. Single-family building followed these movements as the market share for the lowest homeownership counties fell below 40% in the second quarter of 2023." – NAHB Eye On Housing
An unmet need in housing's domain of cross-connected crisis that revealed itself since the GFC is for single-family rental housing. For density, for sustainability, for adaptive housing typology, for workforce, for starter-level attainability, and for rent-by-choice fuss-free community living, single-family rentals – scattered, purpose-built neighborhoods, and everything in-between – are an algorithmically growing unmet need.
The algorithmic growth is fueled by demographics, post-pandemic work-of-the-future trends, a higher-for-longer interest rate regime, a growing demand for geographical flexibility and agility on the part of households.
Still, here's what Pretium managing director Nishu Sood writes in a note this week.
Within single-family housing, single-family rentals have experienced a net reduction in supply over the past few years as described in the October 2022 Pretium Housing Insights. Single-family rentals are arguably the only real estate asset type to have seen supply shrink over the past few years. Looking ahead, Pretium expects that favorable supply-demand dynamics will continue to underpin single-family fundamentals in the coming years, both in terms of rent and price growth."
As many players in the build-to-rent business have learned in the throes of a pivot from an era of easy, patient, yield-hungry money to tighter, costlier, reined-in, precision capital investment, the yawning unmet need came with no free pass. Not having more time, more money, more patience, in fact, can become a show-stopper, unmet need or not.
Hunter Housing Economics founder and president Brad Hunter writes:
Our updated forecast of #BTR starts reflects the challenging financing environment this year, which will limit starts next year. Demand is not backing off, but supply is. After 2024, the juggernaut of demand and the lack of affordability on the for-sale side will drive activity higher. By 2027, we'll be hitting 151,000 BTR starts in the U.S. annually, according to our new forecast. This forecast includes single-family homes, cottages (horizontal apartments), and townhomes/duplexes."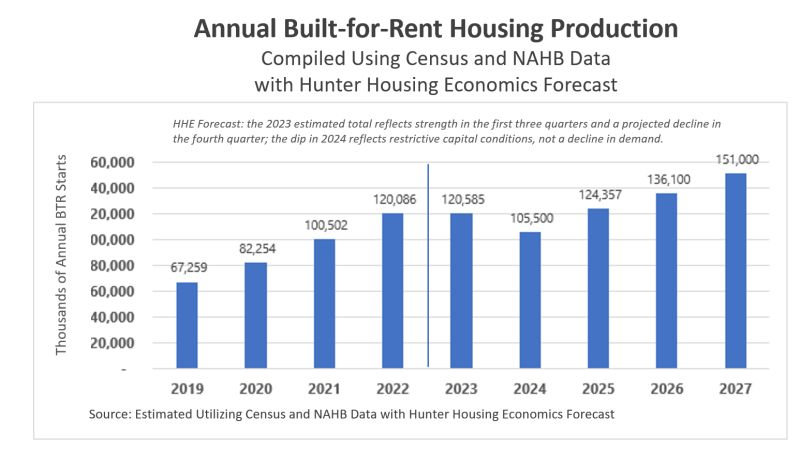 Reality today means that without a free pass, those striving for opportunity to create and sustain value to meet that unmet need require capability that meshes precious resources – money, land, materials, time, and people – with a hardware and software solution that eliminates waste and inefficiency across each one of those valued, finite resources.
As Mosaic launches into pre-construction on two of its latest new build-to-rent (BTR) communities by NexMetro Communities – Avilla Palomino, in Glendale, AZ, and Avilla Berry Creek Highlands, in Georgetown, Texas, in the Austin Market – the projects exemplifies a model that brings that capability to bear when a free pass is not part of the deal.
The projects together add up to more than 400 homes, including one-, two-, and three-bedroom options in duplexes and single-family detached homes with private backyards and front patios, from 690 to 1,265 square feet. With just these two projects together, there's no two ways around getting almost 425 separate build-cycles, each involving about 450 SKUs that account for upwards of 20,000 separate pieces, with about 700 lines of detail in each unit's bill of materials done flawlessly by 25 different trades on schedule and on budget.
Capability, yes. Free pass, no.
Capability in the form of an end-to-end build-cycle-as-a-service can offset at least some of the difference between having a free pass and not.
Here's some high-level take-aways from Mosaic marketing manager Emily Erickson that speak to the capability Mosaic brings to the real-world requirement that meeting an unmet need has still got to pencil profitably. Or else, it's going to be someone else's job to fill it.
Across 10-plus active projects, we currently have 1,000-plus active units (more than 1 million square feet) with an additional 7,000-plus in the pipeline. BTR continues to flourish and will be delivering communities for the foreseeable future.
We're seeing great timelines for BTR communities, around 12-18 months from project start to first leases – a key milestone for developers to start seeing investment returns. (Anecdotally, we're even able to build faster than a public homebuilder's in-house GC arm.)
We're continuing to see interest in Zero Energy Ready Homes (ZERH) and Energy Star rated homes in the BTR space. In fact, Mosaic has built more ZERH than any other national GC.
Salman Ahmad, co-founder and CEO at Mosaic, likes to talk of a capability solution where software, epic partnership and trusted relationship, process, and core competence allow humans to work at their highest level of value creation. Meanwhile, tech and data tools co-pilot, unify, subtract friction, simplify, and accelerate that human value creation so that the people, the process, the systems, and the results add up to more, better, and faster. That is, meeting the unmet need.
It's incredibly encouraging to the work we're doing at Mosaic to see like-minded folks from software and hardware taking advantage of this tech revolution," Ahmad says.
Capability. It's how people striving to fill one of housing's myriad "unmet needs" do it without the benefit of a free pass.